The young professed sisters who are approaching their final profession spend time away from their ministries and activities to begin a third period of formation. This time of formation called the "school of the heart" lasts from six months to one year. For the second time the sisters make a 30 day retreat following the Spiritual Exercises. Together they review their period of formation and renew at greater depth their knowledge of the Constitutions, of Ignatian spirituality, of the history of the Congregation and of religious life within the Church.
Tatiane, Sietske and Jessica on pilgrimage during the third year,
with Anne-Marie accompanying them
Tatiane and Sietske on pilgrimage
during the third year
Incorporation into the Congregation
Pronouncing the vows of "perpetual poverty, chastity and obedience"
incorporate the sister into the Congregation as a full member.
Those who are admitted to Profession commit themselves before the Superior General to give themselves totally to the missions they receive from the Congregation. They remain ready and willing to be sent to one place or another.
The choice of mission of each sister is the result of a process of discernment which takes into account her gifts and aptitudes, the needs of the Church and of the world, and the current choices of the Congregation of the Sisters of St. Andrew.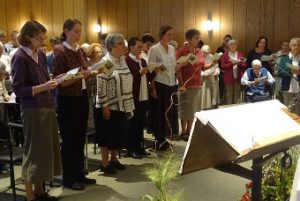 Sietske and Jessica took their final vows on 14th October 2018, in Ramegnies-Chin
Read more...